Duetter
• Allt som jag känner — Tommy Nilsson & Tone Norum: "Jag vill att du ska känna varje del av mig jag ger allt jag har. Jag känner än hur rädslan att förlora dig men om du stannar kvar."
• Back Together Again — Roberta Flack & Donnie Hathaway
• Breaking Free — High School Musical

• Come And Get Your Love — The Real McCoy: "How I'm gonna get it gonna get my loving? Talk to me tell me how I'm gonna get it."
• Could I Have This Kiss Forever — Whitney Houston: "I don't want any night to go by without you by my side. I just want all my days spent being next to you."

• Dancing In The Streets — David Bowie & Mick Jagger: "It doesn't matter what you wear, just as long as you are there. So come on every guy, grab a girl."
• Dead Ringer For Love — Meatloaf & Cher: "Rock 'n roll and brew, rock 'n roll and brew, they don't mean a thing when I compare 'em next to you. Rock 'n roll and brew, rock 'n roll and brew, I know that you and I we got better things to do." Rolig text!
• Det är vi ändå — BAO Benny Andersons Orkester "Stormen var bra för hjärtat, bra för min själ, gjorde oss båda väl. Ja för såsom vi krattar gången, så får vi gå du och jag, för det är vi ändå." Ursprungligen sjöng Helen Sjöholm och Tommy Körberg låten
• Don´t Go Breaking My Heart — Elton John & Kiki Dee
• Du och jag mot världen — Fredrik Kempe & Sanna Nielsen*: "vem bryr sig om alla andra så länge vi har varandra." Duett från festivalen 2005.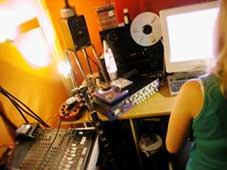 Födelsedag? — Spela in musik!
• E de det här du kallar kärlek — Monica Törnell & Lasse Holm: "Känslorna som bränner är plågor för mig och ändå vill jag hålla dig kvar."
• Endless Love — Mariah Carey & Luther Vandross: "Two hearts that beat as one, our lives have just begun. And forever I'll hold you close in my arms, I can't resist your charms."
• Especially For You — Denise & Johnny

• Gjorda för varandra — Fame "Om jag ska bli förälskad vill jag ha friktion, annars uppstår ingen attraktion. Du och jag vi är som gjorda för varandra: Vi bryr oss inte om de andra" helsnygg duett!
• If I Told You That — Whitney Houston: "I know that we're just friends, but what if I decide to bring something in. I hope it won't offend the trust we have cuz I don't want this to end."
• I´m Your Angel — Celine Dion & R. Kelly: "Seek me and you shall find, you have everything and you're still lonely."
• I Got You Baby — UB40 & Chrissie Hynde
• I Knew You Were Waiting (For Me)
— George Michael & Aretha Franklin
• Islands In The Stream — Dolly Parton & Kenny Rodgers: "Everything is nothing when you got no one." En snygg låt som inte är helt självklar i melodin.
• It Takes Two — Marvin Gaye & Kim Weston: "One can wish upon a star, two can make that wish come true, yeah. One can stand alone in the dark, two can make the light shine through."
• Let Your Spirit Fly — Pernilla Wahlgren & Jan Johansen
• On My Own — Patti Labelle & Michael McDonald
• Start Of Something New — High School Musical
• Stjärnorna — Marie Bergman & Roger Pontare: "God morgon min sol, tänk om jag kunde se det som bara du kan se. Då visste jag allt det du vet, om allt det som händer med oss båda" Kärleksduett.
• Summer Nights — Grease: "Tell me more, tell me more, how much dough did he spend? Tell me more, tell me more, could she get me a friend?" Skriv gärna en egen text!

• (I've had) The Time Of My Life — Dirty Dancing: "Now I've had the time of my life, no I never felt like this before. Yes I swear it's the truth and I owe it all to you." Inte helt lätt, men rolig! Ny!
• When Youre Gone — Bryan Adams & Mel C "I realize I´m in love"
• You´re The One That I Want — Grease*
• Ain´t No Stoppin´ Us Now — McFadden & Whitehead: "we won't let nothin' hold us back, we're gonna put our selves together, we're gonna polish up our act."
• Baby Come Back — Akon, Baby Bash: "Don't look no farther! Baby im back. Im here to cater to you Cause Ill be your lover"
• Baby Love — The Supremes: "Why must we separate, my love, all of my whole life through, never loved no one but you. Why d'you do me like you do."
• Best Of My Love — Emotions: "Demonstrating sweet love and affection that you give so openly. The way I feel about you baby can't explain it, want the whole wide world to see."
• Boogie Nights — Heatwave

• Contact — Edwin Starr
• Get The Party Started — Pink: "I got lotsa style, got my gold diamond rings. I can go for miles if you know what I mean."
• He´s The Greatest Dancer — Sister Sledge

• It´s Raining Men — Weather Girls: "I'm gonna go out to run and let myself get absolutely soaking wet. It's Raining Men! Hallelujah!" eller varför inte: "Rip off the roof and stay in bed!" En rolig text med mycket plats för sångglädje för både kör och solist. Går högt.
• I Will Survive — Gloria Gaynor: "so you're back from outer space. I just walked in to find you here with that sad look upon your face. I should have changed that stupid lock, I should have made you leave your key, If I'd have known for just one second you'd back to bother me."

• Lady Marmalade — Från Moulin Rouge: "Hey, hey, hey! Touch of her skin feeling silky smooth, color of cafe au lait alright. Made the savage beast inside roar until he cried: more-more-more" med Christina Aguilera, Lil´Kim, Mya, Pink & Missy Elliott. Respect!
• Last Dance — Donna Summer: "I need you by me, beside me, to guide me, to hold me, to scold me. 'Cause when I'm bad, I'm so bad."
• Learning Lessons (Dreams Come Tru) Svenskt sväng.
• Le Freak — Chic: "Feel the rhythm, check the ride, come on along and have a real good time."
• Let´s Groove — Earth, Wind & Fire: "Move yourself and glide like a 747."
• Lost In Music — Sister Sledge: "I want to join a band and play in front of crazy fans. Yes, I call that temptation, give me the melody, that's all that I ever need."
• Make It Rain — Fat Joe
• My Girl — The Temptations: "I've got all the riches baby one man can claim. I'd guess you'd say what can make me feel this way? My girl"
• Oops Upside Your Head — Gap Band
• Papa's Got A Brand New Bag (Part 1)— James Brown
• Play That Funky Music — Wild Cherry

• Sexual Healing — Marvin Gaye: "Wake up, wake up, wake up, wake up. Oh baby, now let's get down tonight." Vad skall de ner till?
• Stayin´ Alive* — Bee Gees: "you can tell by the way I use my walk, I'm a woman's man: no time to talk, music loud and women warm." Är toksvår för att den går väldigt högt och för att den innhåller så många ord på så kort tid att texten mest blir ett mummel.
• We Are Family — Sister Sledge. (I´ve got all my sisters with me): "all of the people around us they say: Can they be that close? Just let me state for the record, we're giving love in a family dose."
• Yes Sir. I Can Boogie — Baccara: "I'm a sensation, you try me once, you'll beg for more" Kom och öva på er franska accent när ni sjunger på engelska. Många stönanden.
• You´re The First. The Last. My Everything — Barry White "I know there's only one like you — there's no way they could have made two." En rolig låt att sjunga! Även för kören. Texten är fantstisk med genomgående kärlekstema. Låten passar både tjejer och killar.
• You To Me Are Everything — Real Thing: "If it takes forever girl, then I'm prepared to wait. The day you give your love to me won't be a day too late."